Sophiana's Home Care Inc. (Indio, CA 92201)
Sophiana's Home Care will be hosting an in-person hiring event. They will be looking to hire Caregivers, Home Health Aides, Nurse Assistants, and Medical Assistants. Pay starts at $16 an hour.
DATE: Thursday, May 27th, 2021
TIME: 9:00 am – 1:00 pm
LOCATION: Indio Workforce Development Center
Conference Room-Room 402
44-199 Monroe Street
Indio, CA 92201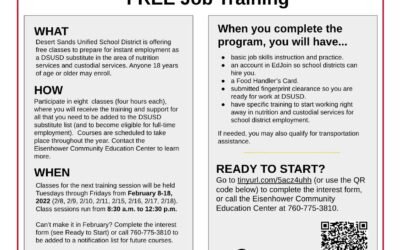 Adult Ed Sub Program (1)Download Desert Sands Unified School District is offering free classes to prepare for instant employment as a DSUSD substitute in the area of nutrition services and custodial services. Anyone 18 years of age or older may enroll. WHATParticipate...