Job listing from La Quinta Resort & Club
Job List 09/27/2021
| | | | |
| --- | --- | --- | --- |
| Department | Position | PT/FT | # |
| Adobe Grill | Server | PT | 3 |
| Banquets | Cook I | FT | 3 |
| Banquets | Cook II | FT | 1 |
| Banquets | Cook III | FT | 6 |
| Banquets | Server | PT | 24 |
| Banquets | Houseperson | PT | 20 |
| Centre Court Cafe | Bartender | PT | 1 |
| Front Office | PBX Operator | FT | 1 |
| Housekeeping | Room Attendant | FT | 10 |
| Laundry | Washer | FT | 1 |
| Leasing | Engineer II HVAC | FT | 1 |
| Marketing | Coordinator | FT | 1 |
| Marketplace | Barista | PT | 1 |
| Marketplace | Cook II | FT | 1 |
| Morgan's in the Desert | Cook II | FT | 1 |
| Morgan's in the Desert | Busperson/Server Assistant | FT | 1 |
| Morgan's in the Desert | Busperson/Server Assistant | PT | 2 |
| Morgan's in the Desert | Host | PT | 1 |
| Morgan's in the Desert | Server | PT | 4 |
| Property Ops | Painter | FT | 1 |
| Property Ops | Pool Technician | FT | 1 |
| Recreation | Attendant | PT | 1 |
| Security | Officer | PT | 2 |
| Stewarding | Dishwasher | FT | 10 |
| Stewarding | Steward/Banquet Food Runner | FT | 2 |
| Spa | Male Locker Room Attendant | PT | 1 |
| Spa | Massage Therapist | PT | 6 |
| Spa | Massage Therapist | OC | 2 |
| Twenty6 | Bartender | PT | 2 |
| Twenty6 | Host/Hostess | PT | 1 |
| Twenty6 | Busperson/Server Assistant | FT | 1 |
| Twenty6 | Busperson/Server Assistant | PT | 2 |
| Twenty6 | Cook I | FT | 1 |
| Twenty6 | Expeditor | FT | 1 |
| Twenty6 | Server | PT | 4 |
Supervisor/Lead Positions – Hourly
Adobe Grill Supervisor
Banquet Sous Chef
Housekeeping Supervisor
Twenty6 Supervisor
Stewarding Supervisor 
Management Positions – Exempt
Assistant Director of Human Resources
Banquet Chef
Chef de Cuisine – Twenty6
Director of Food & Beverage
Leasing Manager
Leisure Sales Manager
Twenty6 Restaurant Manager
To Apply or learn more about our career opportunities please visit:
www.jobs.hilton.com
Location: La Quinta, CA
Brand: Waldorf Astoria
Ya Puedes Formular Tu Solicitud en Español:
Ubicación: La Quinta, CA
Marca: Waldorf Astoria
Current Team Members please visit:
Lobby/Hilton.com
For our dedicated Military please visit:
www.jobs.hiltonworldwide.com/military
EOE, AA, Disabled, Veteran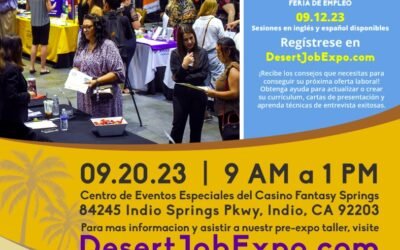 JOB SEEKERS!!JOIN OUR NO COSTPRE-EXPO WORKSHOP 09.12.23English and Spanish Sessions AvailableRegister atDesertJobExpo.comReceive the tips you need to land your nextjob! Get assistance updating or creatingyour resume, cover letters, and learnsuccessful interview...