GAF Roofing Academy: Fontana (10/18/21 – 10/22/21)
Good morning,
I am looking for some assistance in recruiting candidates to our free upcoming training and hiring event that will take place in Fontana.
During this class, we will train on residential roofing installations. Each student will receive a voucher to complete OSHA10 training as well. Upon graduation, students will be given access to GAF WorkBelt, which is our job/contractor matching app that will help those students interested find employment with one of our certified contractors. We also provide a $250 stipend to those who graduate from our Roofing Academy.
Requirements:
18 years of age and older
Can pass pre-employment drug screen
Physically able to lift and carry 50 lbs.
Able to work in outdoor conditions safely and at heights (hot, cold, windy, etc.)
Looking for full time employment with career potential within the roofing industry
I have the following information for dissemination to members of your team:
Aninformational video about the GAF Roofing Academy that you can access here.
A testimonial video from one of our GAF Roofing Academy graduates that you can access here.
The GAF Roofing Academy websitethat you can access here.
Again, this event is free and open to the public. Please let me know if you have any questions or would like to set up a time to discuss our program further.
Thank you,
Wesley Jobes
Program Manager – Roofing Academy
GAF World Headquarters
c: 209-418-9579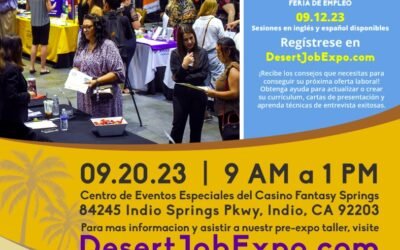 JOB SEEKERS!!JOIN OUR NO COSTPRE-EXPO WORKSHOP 09.12.23English and Spanish Sessions AvailableRegister atDesertJobExpo.comReceive the tips you need to land your nextjob! Get assistance updating or creatingyour resume, cover letters, and learnsuccessful interview...