Palm Springs Airport Hiring Event
Palm Springs Airport Hiring Event
Good morning, everyone!
Hope you all are in good spirits
Please see the attached (and below) regarding an upcoming hiring event happening at the Palm Springs Airport on the 24th of August.
Thank you, Jane, for sharing
Please stay safe and PLEASE stay hydrated!!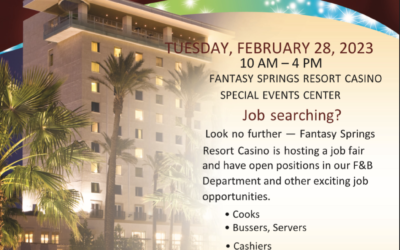 FIND YOUR NEW CAREERAT OUR JOB FAIR!Job searching?Look no further — Fantasy SpringsResort Casino is hosting a job fairand have open positions in our F&BDepartment and other exciting jobopportunities.TUESDAY, FEBRUARY 28, 202310 AM – 4 PMFANTASY SPRINGS RESORT...