Reminder
G4S Virtual Hiring Event
G4S is looking to hire for multiple Security Officer and Protection Officer positions. No guard card needed before hiring. Company will provide assistance in obtaining guard card.
 DATE: Wednesday, June 16th, 2021
TIME: 9am to 2pm
LOCATION:
Virtual
https://portal.premiervirtual.com/event/register-jobseeker/8400-virtual-hiring-event
Interested job seekers can register for the event by going to
We hope to see you there.
Thank you,
           

Manuel Rocha
Workforce Development
Business Solutions Consultant
44-199 Monroe Street, Suite B
Indio, CA 92201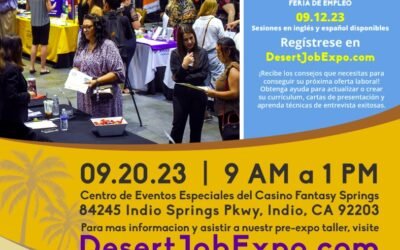 JOB SEEKERS!!JOIN OUR NO COSTPRE-EXPO WORKSHOP 09.12.23English and Spanish Sessions AvailableRegister atDesertJobExpo.comReceive the tips you need to land your nextjob! Get assistance updating or creatingyour resume, cover letters, and learnsuccessful interview...