EMT program & Workforce Services
EMT program & Workforce Services. Hello all, Following up to our meeting earlier in the month. First of all, I want to thank you for the contacts mentioned for continued EMT program outreach efforts. We are following up to those referrals. I have attached the EMT program flyer again and good news COD's EMT courses are now approved.
We can now assist customers with the tuition and training related expenses for this course. I have copied Claudia Tatham in this e-mail as she is our representative for the EMT classes.
I have also attached our general Career Coach flyer. We can assist customers with Career Coaching and a variety of vocational training programs. Have interested candidates give us a call.
Thanks! Have a great weekend!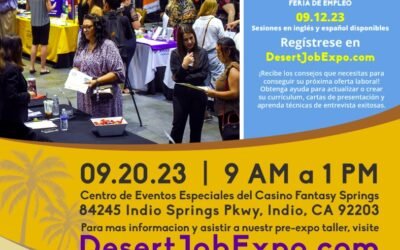 JOB SEEKERS!!JOIN OUR NO COSTPRE-EXPO WORKSHOP 09.12.23English and Spanish Sessions AvailableRegister atDesertJobExpo.comReceive the tips you need to land your nextjob! Get assistance updating or creatingyour resume, cover letters, and learnsuccessful interview...