Norco College is offering Tuition Free Certificates this Spring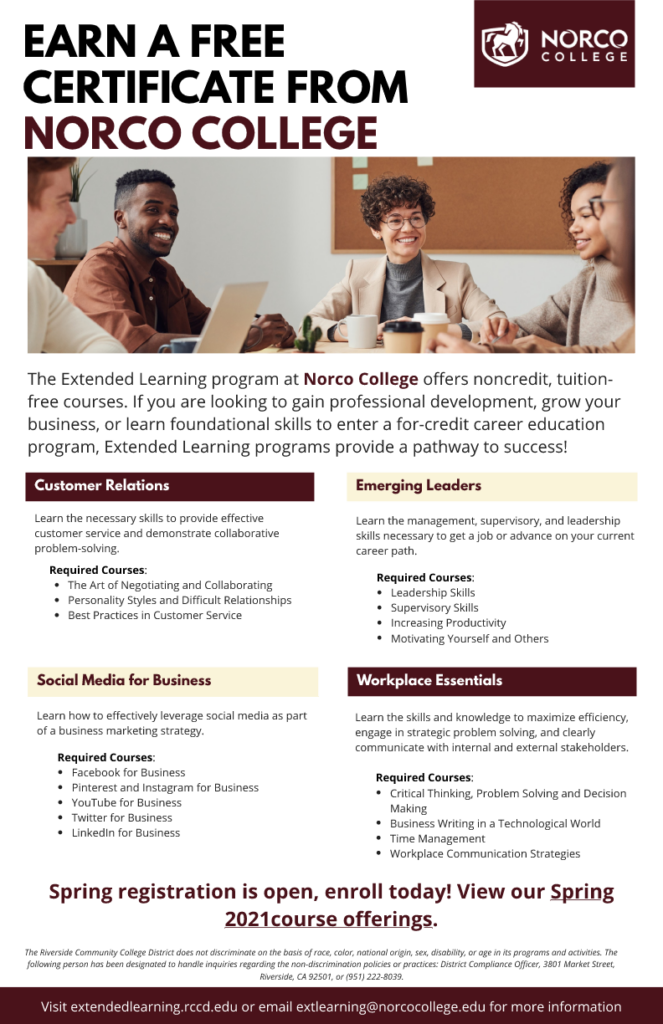 Hello Partners and Friends!
We would like to share our free noncredit offerings with you. These are free certificate programs that are an excellent way to introduce students to college courses and start a pathway to credit courses. They are also ideal for current employees to be more successful in today's workplace.
The following certificates and classes are available this Spring:
Social Media for Business: Facebook for Business, Pinterest & Instagram for Business, YouTube for Business, Twitter for Business, LinkedIn for Business
Customer Relations: The Art of Negotiating & Collaborating, Personality Styles & Difficult Relationships, Best Practices in Customer Service
Workplace Essentials: Critical Thinking, Problem Solving & Decision Making, Business Writing in a Technological World, Workplace Communication Strategies
Emerging Leaders: Leadership Skills, Supervisory Skills, Increasing Productivity, Motivating Yourself & Others.
Each course is between 10-12 lecture hours and is offered online. I've attached the flyers with more information and descriptions. The classes will be offered as a sequence to the certificate but can also be taken individually. Classes begin on February 16th.
Please share with your network, collaborators, and partners. Thanks,
Carlos Vasquez
Apprenticeship Director (Interim)
951.372.7028 (Office)
562.228.6826 (Cell)
​https://www.norcocollege.edu/
EMPLOYERS: Want to increase profits by hiring trained workers?
STUDENTS/JOB SEEKERS: Need training & education to earn higher wages in local industries?
Watch our videos on our Career & Technical Education and APPRENTICESHIPS Programs.
Learn about LAUNCH?
https://launchapprenticeship.org/
Local Apprenticeships Uniting a Network of Colleges & High Schools